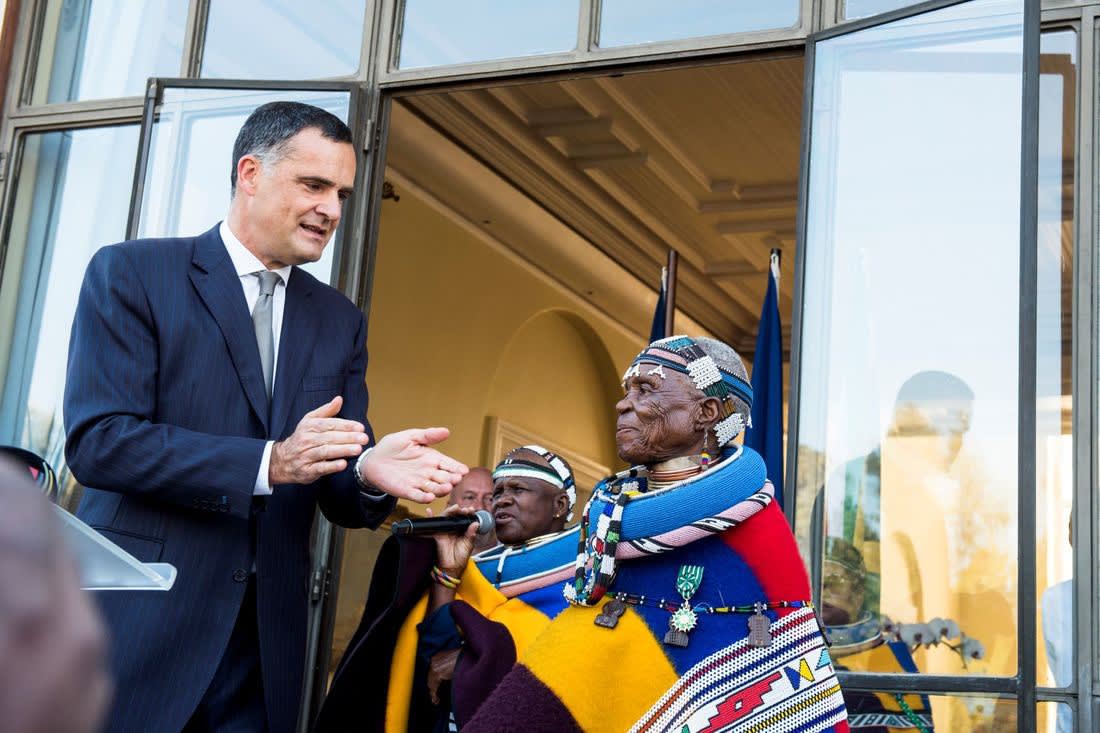 During the 2019 Bastille Day celebration at the Residence of France in Pretoria, Ambassador of France to South Africa, H.E. Mr. Christophe Farnaud, bestowed on South African Ndebele artist, Dr. Esther Mahlangu, the award of Officier de l'Ordre des Arts et des Lettres (or Officer in the French Order of Arts and Letters).
Renowned Ndebele artist Dr. Esther Mahlangu learned traditional Ndebele wall painting and beadwork from her mother and grandmother as a child. In 1986, while she was working at an Ndebele cultural village in Middelburg, Mpumalanga, the artworks she created on her house made a strong impression on French researchers from Paris. She was invited to create murals for an exhibition of international contemporary art in France, and upon her return in 1990, she began to paint murals for public venues in South Africa, soon followed by locations in Europe and the United States. Her work has since appeared in exhibitions in more than a dozen countries. She is one of South Africa's most globally acclaimed artists and is considered by many to be a national treasure.
Said Ambassador Farnaud: "This award is all the more deserved for the efforts you have made during your life to share with the world your cultural heritage – the rich, deep, broad heritage of the Ndebele people. Your graphic murals have become icons of South African art, and are now known across the world".
12 Jul 2019