Black lives have always mattered through colonialism, the Atlantic Slave Trade, the Jim Crow era, apartheid, and currently, with the ongoing abuse of Black bodies by the police. The atrocity committed against People of Color around the world clearly indicates that social engineering against us has birthed all the negative repression.
Barnabas Tich Muvhuti talks with the Zimbabwe-Born Ronald Muchatuta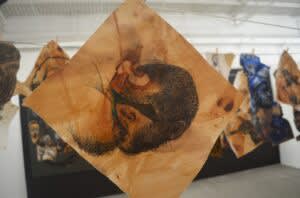 In conversation with Ronald Muchatuta
Ronald Muchauta is an artist whose modern practice engages the critical issues affecting the continent of Africa and its relations with the rest of the world. The Cape Town-based, Zimbabwe-born, contemporary artist uses various media that include drawing, mosaics, painting, and collage to articulate his ideas. In this interview, researcher Barnabas Ticha Muvhuti caught up with the artist to talk about his recent exhibition at The Melrose Gallery in Johannesburg, his participation in the Stellenbosch Triennale just before the world went into the lockdown phase due to the coronavirus pandemic and current topical issues including Black Lives Matter and the human rights abuses by the military junta-backed leadership in his country of birth.
6 Oct 2020