Artist Adejoke Tugbiyele creates these sculptures that combine her signature material, the African broom along with wire and fabric. The result is a work that is bold, intricate and textured, imbued with a feeling of flux. These sculptures are often integrated into performance further highlighting its fluidity and otherworldliness. Tugbiyele's practice spans over two decades with works that both examine and traverse identity, sexual politics, indigenous history, nature and spirituality. Always utilising a combination of visual languages from drawing to video and sculpture to performance, the artist's work is never shy of pushing form. In this conversation, we talk about Yoruba aesthetic, the power of the broom, queering traditional spaces and simplification.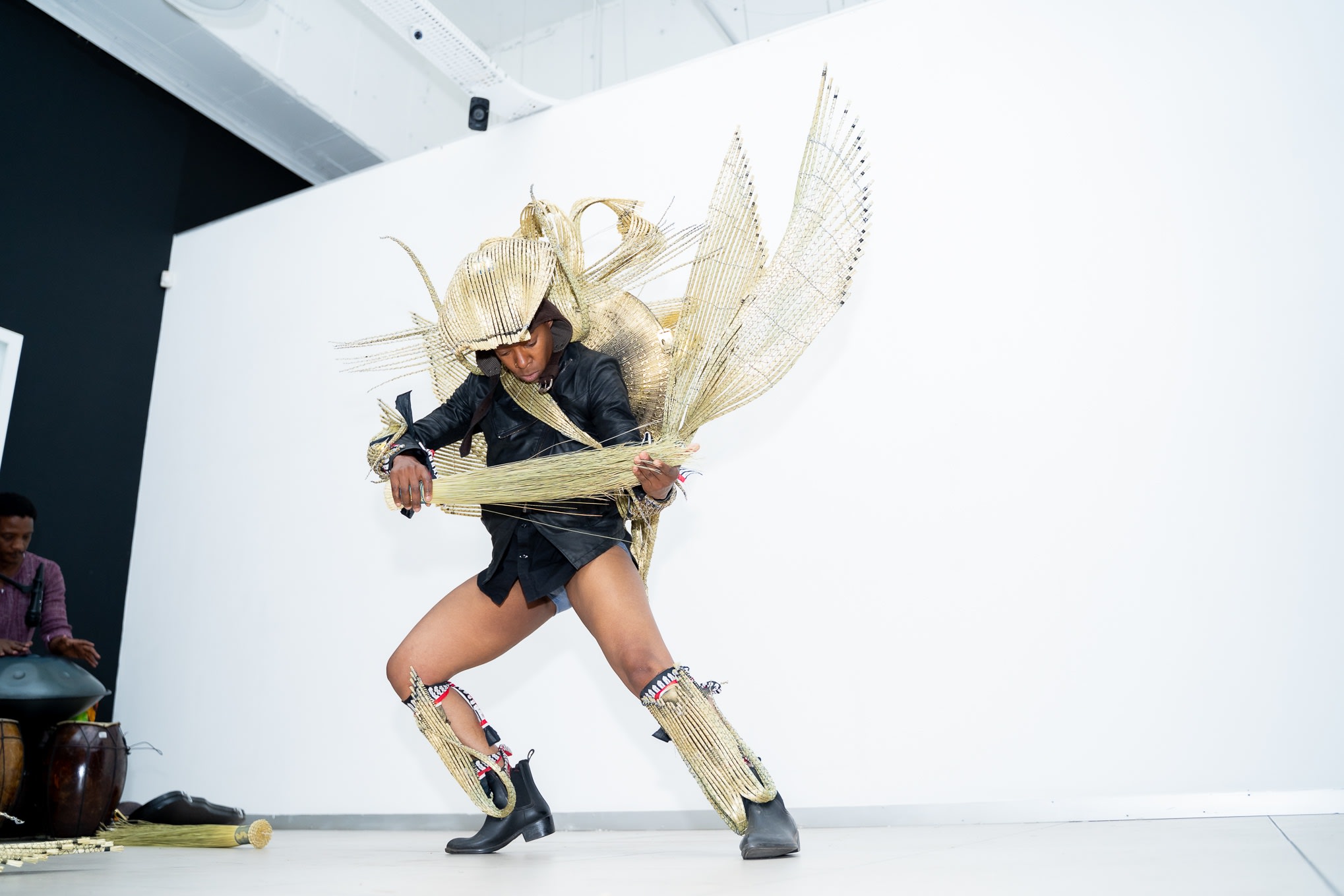 There is an approach to the sculptures of artists with an architectural background that is structural yet spectral. Can you tell me a bit more about how your history in architecture feeds into your process?
I fell in love with architecture at an early age – about 12 or 13. A year later, I gained admission to study architecture at the specialized High School of Art and Design in New York. I have come to understand the early pull towards architecture as my way of navigating or perhaps reconciling a drastic change in environment – my birth in Brooklyn, New York, then moving to Lagos, Nigeria at the age of three and then, returning to New York at the age of eleven. To balance differences in culture, climate, sound, language, dress and other visual aesthetics of seemingly completely different worlds, I found a centering and grounding force through the study of architecture. Also, shaping my understanding were further studies and work experience at the Central Park Conservancy, The Cooper Union, the New York City School Construction Authority and participation in the NAACP Act-So Competition in Architecture. In the latter, my favorite design project honored theEgyptian/Nubian architect, Imhotep. In addition, I am blessed to have been commissioned by my parents – Akinlolu and Abimbola Tugbiyele – to design some structures at our ancestral town – Igbajo, Nigeria. A residence and a University student hostel in honor of my late grandmother Princess Ruth Adetutu Tugbiyele. For the design, I borrowed from Nnamdi Elleh's concept of 'The Triple Heritage' in African Architecture – Western, Islamic and Indigenous aesthetics that inform the totality of the built environment across Africa.
2 Mar 2021