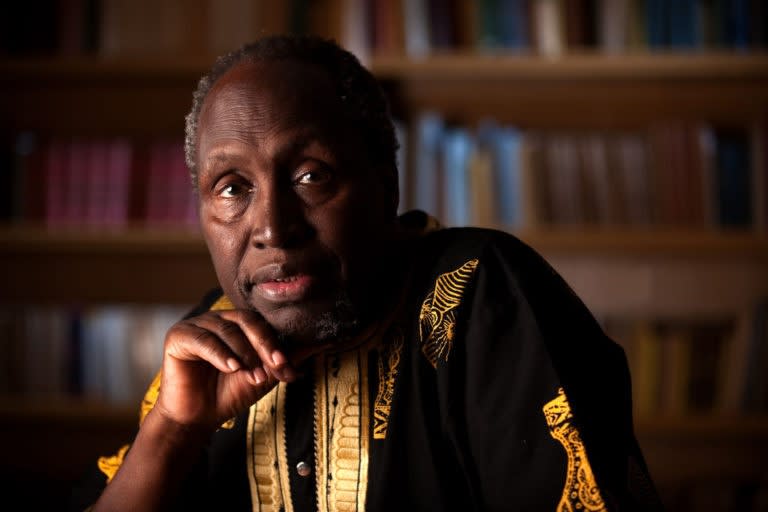 By Ngũgĩ wa Thiong'o
Pitika Ntuli is a man of many gifts, a Sangoma whose readings for pleasure include books on Quantum Physics.
I first knew Pitika Ntuli as a storyteller. This was in London, in the early eighties of the last century. We were both exiles, he from South Africa but still fighting the Apartheid reign of terror, and I from Kenya, post-colonial Kenya, but still fighting Moi's reign of terror. Pitika was to be found in all pan-Africanist struggles, including the public activities of the London based Committee for the Release of Political prisoners in Kenya. His contributions in our public gatherings nearly always involved a story. I remember the one about how his mother once refused to wash her husband's socks. She would otherwise do anything for him but not that, and somehow this gave her the strength to defy apartheid. Her logic is simple: If her husband could not make her wash his socks, nothing, not even the entire machinery of apartheid could break her will. A great poet of orature, Pitika could sum up the complexities of a situation with a tale.

But then in our walks through the streets of London, I saw his other side. Whenever we passed by heaps of discarded material, he would stroll there, and come back carrying one or two items, an old exhaust pipe, a jar, bicycle part. Was Pitika also a collector of junk? Later I was all amazement to see what he had done with the discarded material: turned them into incredibly beautiful story-telling sculptures. He had turned objects discarded as dead into things of living beauty.
Around the year 2003, in post-Apartheid era, he would receive me at his house in Durban, KwaZulu-Natal. The exile had returned home. He took me for a walk in the Valley of a Thousand Hills, the eponym of the poem by H I Dhlomo. What? Pitika was collecting bones! Afterwards, he gave me a parting gift: it was a pen, made out of those bones.
In June, 2017, I would visit him at his studios in Johannesburg: he was working on granite rocks, so huge some of them, that he had to use an army of assistants to move the rocks, and a ladder to reach the top. They reminded me of Henry Moore, only that each of the granite sculptures told an aspect of the history of the struggle against apartheid. All of them, were imbued with the Pan Africanist spirit I had first witnessed in him in our London days. The narrative of my memoir, Birth of a Dream weaver, is framed by pictures of two of the sculptures I saw in the studio. This is appropriate because all his granite sculptures tell stories of dreams and flights to freedom.
With this exhibition, Pitika has returned to bones, or rather has reconnected himself with the bones of all creation. African Diviners often use bones to connect with the realms of the spirit. But his work with bones more immediately reminds me of the Biblical Ezekiel, in the valley of dry bones. Through the prophet, the God of all Creation makes His breath enter into the bones and they come to life.
This exhibition is in the tradition of our diviners and the vision of the Biblical prophet. Where Ezekiel once walked in the Valley of Dry Bones, Pitika once collected bones in the Valley of a Thousand Hills, among other places. Over and over again, Pitika has made his creative breath enter the bones, and they come to life.
Pitika is the poet of resurrection, the spirit that once imbued all the great sculptures and pyramids of the ancient Egypto-African Civilization.